Realizing Importance of Perforated Metal Sheet: Uses & Benefits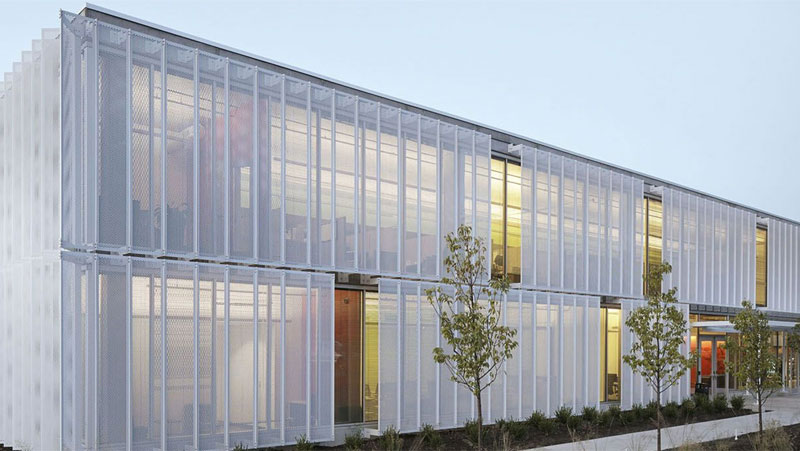 Perforated Metal Sheet
A metal sheet is said to be perforated if it has been stamped or punched manually or mechanically using laser-cutting technology or CNC to create various patterns or holes in it of different shapes and sizes. Some of the most common materials that are used to manufacture such sheets are aluminum, galvanized iron, and stainless steel. A Perforated metal sheet is also called a perforated metal screen or plate.

The perforating process is more than a century old that has been practiced manually for a long time before it was mechanized through machines and technological devices. Earlier the process of manually punching holes resulted in time-consuming results that were often inconsistent. This led to the invention of machines that improved the process in terms of time, manpower, effort, efficiency, and consistency in design. Some of such machines include laser perforations, die and punch presses, and rotary pinned perforation rollers.

Read Also: Customized Perforated Metal: A Tailor-made Solution for Business
Uses and Applications of Perforated Metal Screens
Perforated Metal Sheets have been actively used across various industries and sectors, namely:
1. Construction
These sheets are used to make signboards, ventilation grills, facades, temporary airfield surfaces, acoustic panels, pipe guards, stair treads, and many more things.

2. Automotive
These metal screens have been utilized in the automotive sector for making various ventilation parts, grids, silencer tubes, radiator grills, boards, flooring, air and oil filters, etc.

3. Chemical and Energy
This sector utilizes metal sheets for various purifiers, filters, washing equipment, drying baskets, battery separator plates, liquid gas-burning tubes, water screens, and so on.

4. Material Development
Perforated Metal Screens are commonly used for various machines, printers, mills, cinder screens, blast furnace screens, glass reinforcements, and cement slurry screens apart from other material developments.

5. Food and Beverages
Several machines in the food industry including beehive construction, sorting machines, juice presses, baking trays, coffee screens, grain dryers, wine vats, silo ventilation, etc. are all a product of perforated metal sheets.

6. Architectural
One of the most important applications of Perforated metal screens is architecture. It is used in site amenities, cladding, infill panels, sunshades, metal signage, fencing screens, column covers, and so on.

Read Also: Perforated Metal: Adding Flair to a Project

Benefits and Importance of Perforated Metal Sheets
1. It appeals aesthetically and is preferred by architects across the world for adding flair and style to their structures and buildings. How a finish must look can be decided by the architects for the variety of holes and their shapes with sizes and positions for visual appeal. Their unique ideas give rise to innovative designs through the perforation process.

2. It is preferred when looking to provide privacy and decorative lighting effects. Through perforate metal products, one can add privacy to their private spaces while allowing natural light to penetrate. This is another visual appeal that provides reverse lighting effects as well making it an eye-catching façade.

3. It adds to the acoustic performance by soundproofing the room, reducing emissions, and preventing echoes. Since sound waves pass easily through the material, they can be used as covering materials to acoustic equipment adding a sound absorber for better delivery.

4. A perforated sheet has a lighter weight with more durability. It is much easier to handle and can reduce a lot of load in architectural structures. This also reduces transportation costs. It is also stronger than many building materials and can withstand many weather elements.

5. It is also flexible, versatile, energy-efficient, and has a higher building performance than most metal sheets. It is also very environment friendly due to its recyclable nature that promotes sustainability.

Legends India: Greatest Metal Screens Manufacturer
Legends India is an ISO-certified manufacturer and exporter of the best quality Perforated Metal Screens for varying industries. Started in 1972, Legends India has expanded its scope to various countries and locations including South East Asian Countries (Indonesia, China, Philippines), United Arab Emirates, The United States of America, United Kingdom, and Asian countries (Sri Lanka, Pakistan).

Having sufficient manpower and the greatest minds on board has enabled Legends India to cater to critical perforation jobs for the most valuable customers. The aim of reaching an encompass-able level of customer satisfaction has improved the capability and quality of production with every innovation. One can truly realize the importance of perforated metal sheets by exploring possibilities with Legends India professionals whose years of experience in the field have resulted in a synthesis of a wide range of products in a huge bracket of sectors across the world.