Types of Heavy Storage Racks to Increase Warehousing Efficiency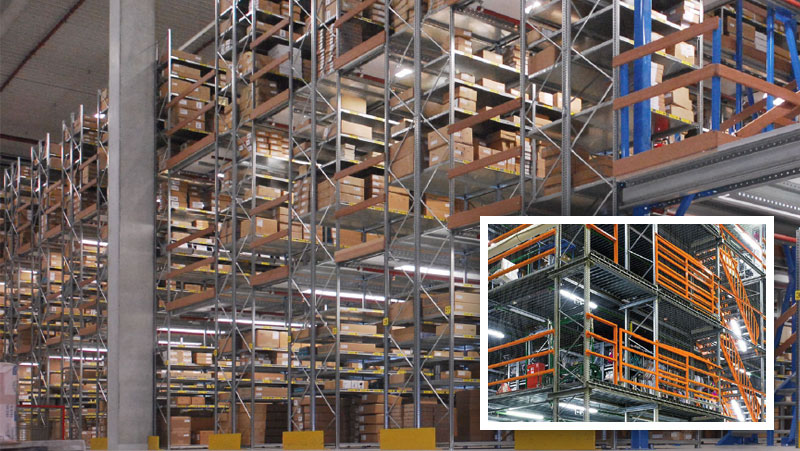 Selecting the correct storage racks for a warehouse can double-up storage space, decrease product damage, enhance the workflow, and boost profitability. How to choose the ideal storage rack depends upon the kind of products you deal with. The suitability of such racks also relies on floor space available and the requirement for speedy accessibility. These infrastructural strategies help to improve results as well as bring in profits. The warehouse operators need to apply various viewpoints and tactics to maximize the use of storage area.

For a Heavy Storage Rack, the type of material used in its construction is also important. It is so because such racks must be able to withstand the load along with frequent contact. Strong and durable racks provide excellent opportunity to increase warehouse efficiency. However, racks are not the only factor that adds to the efficiency of warehouse. The layout of the storage facility, the measurement of aisles and demand of products also contributes a lot.

When the needs of warehouse are reviewed, it is crucial to know all the various types of storage racks that are put into use.

Read Also: How Centrifugal Screens Plays Important Role In Sugar Mill Industry?
Pallet Racks
Pallet Racking System is very popular and widely used type of storage racks as they are reasonably resourceful. They are cost-effective and can hold out small and large goods alike. Such Heavy Duty Racks are generally positioned amid single-entry wall racks on the perimeter sides and double-entry racks in the centre. The working aisle dimension involving each rack and the rack height depends upon the features of the lifting devices or fork-lift trucks. The height of the warehouse and pallet size also counts.

A warehouse manager knows well how to make the most by combining the Pallet Racks. The Pallet Racking System is brought into use through several different ways. Some of the common approaches are Double Deep Pallet Racking, Push-Back Racking, Mobile Pallet Racking, Narrow Aisle Racking, Drive-in Racking and Live Pallet Racking.

Read Also: Importance of Perforated Metal Sheet: Uses & Benefits
Cantilever Racks
Cantilever Rack is just the perfect storage rack for stashing pipes, tubes, steel bars, furniture and other similar heavy items. Such items have got to be kept off the floor so that it grants immediate accessibility to one piece or a full load. This type of Heavy Storage Rack is exceptional for storing extra-large or ineptly-shaped goods. These oversized items most often don't fit on pallets and are excessively weighty for other storage systems. The industries of construction, timber and ship-building recurrently utilize the Cantilever Racks for stockpiling logs, steel poles besides large materials.

Heavy storage Racks Manufacturer
builds these racks with heavy-duty steel. To give adequate support for materials, each post has protruding angled arms. These inclined arms hold or prevent the stored items from falling off. As storage needs varies, braces, additional arms and uprights can be further adjoined.

Slotted Angle Racks
Slotted Angle Racks are made up of reusable metal bit and pieces used to make structures like shelves, equipment stands, frames, work benches, etc. These racks are made by raw materials of finest quality which makes them durable and robust. The space or area of a warehouse can be used in a cost-effective approach by using these types of Heavy Duty Racks. This system of racking is extensively used in storage units in industrial locations.

Slotted Angle Racks can be of variety of designs and sizes which would cater to the different needs of clients.

Multitier Racks
Multitier racks are structured by shelving two or more levels of racks. In this arrangement the components used are same as used in selective pallet racking. Any medium or large sized warehouse can be benefitted with the use of these racks. It is of perfect use in SKUs (Stock Keeping Units) with average earnings for storage and distribution. A well-made Multitier Racking system aids a lot to develop productivity and enhance warehouse storage space. It can also be helpful in your operations while getting accustomed to the inventory needs which keep changing.

Any reputed Heavy storage Racks Manufacturer will offer you an extensive range of Multi-Tier Racking System. They employ accomplished professionals to inspect these storage racks on a variety of quality parameters. These racks are also found in different designs to fulfil the needs of various customers.

Raising the Efficiency of Warehouse with Storage Racks
Proper use of Heavy Duty Racks is one of the initial infrastructure mechanisms that make seamless operation possible and optimise warehouse efficiency. Such types of racks facilitate warehouses to take full advantage of their use of space. It also allows effortless access for smooth picking as products are sorted out resourcefully. Before you install any kind of racks, it is important to analyse the type of racking you require in your warehouse for storing of goods.

Obtaining a Heavy Storage Rack will allow you to maximize lifespan and minimize wear and tear to utmost extent. These storage racks must be affixed to the walls and floors in the most secured way. This will avert damages to the goods and thwart any harm for the workforce. It is exceedingly crucial to maintain adequate space or gap all along the storage units. This measure helps in uncomplicated access of the stocks.

There are few more types of storage racks that support to build competence in warehousing. They are incredibly docile and can fulfil all the needs arising in the storage facility for storing goods. The sturdy racks are termed as Carton Flow Storage Racks, Static Shelving Systems, Over Dock Door Storage Systems, Rivet Shelving, Steel Shelving and Wire Mesh Shelving.

About Legends India
If you yearn to develop your warehousing efficiency, LEGENDS INDIA would deliver the perfect solution. The Legends India is a Heavy storage Racks Manufacturer and provide you the best help you need. They custom design the warehouse racks and assists in installing too. When it comes to manufacturing and supplying of finest storage racks, Legends India is a reputed name. The skilled professionals of this company always provide their assistance and guidance when you need to select storage racks for warehouse. They help to achieve business goals by providing the precise layout of storage racks.