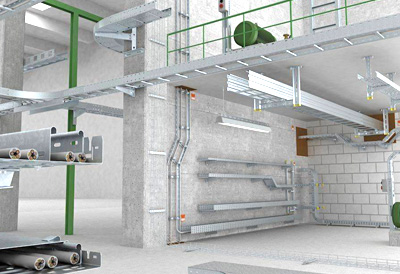 To stove away from the disorganized electrical cable system, you can look into some promising solutions such as Clip-on Cable Trays. Cable Trays are the support systems used for the systematic arrangement of cables in any building or premises. These trays are best utilized in electrical systems, power distribution, control, and communication.

We provide excellent quality products that are highly durable, cost-effective, and stylish, making us one of the best Cable Trays Manufacturers. In the situation of wire or cable congestion, we have a quality solution in the form of cable trays that are designed to raise your work area productivity to the next level.
Perforated Cable Tray Manufacturer
Cable Trays are designed keeping in mind the need for neat organization, fit to size, and accuracy in shape for smart fit in any kind of space. This is necessary to ensure that all the extra space taken up by the cables is reset into a cable tray setup that fits even in the most challenging areas. These perforated cable trays are manufactured in a way that there are uniform holes punched in to provide ample ventilation to the cables.
These cable trays are designed to be:
Easy to install
Very low maintenance
Saves plenty of space
Can support large quantity of cables
Very high tensile strength
Highly durable and long-lasting
Smooth finish with no rough surface
Resistance to corrosion

Specialties Pertaining to Cable Trays
Despite constant heavy load, cable trays are developed with an inbuilt strength enabling them to last longer. They also have a sleek design with innovative shapes to enable easy fitting within tedious spaces. Our professionals can design cable trays up to 4 ft. wide depending on the requirement. We have the provision of making non standard (regular) cable trays with minimum order quantities of upto 500 mtrs.

These are aesthetically designed to look impressive and showcase a level of neatness in the immediate room or area. These cable trays are adaptable and highly flexible for designing while ensuring a reliable product delivery at an affordable cost. These are corrosion-resistant and will never give you a reason to regret your choice of manufacturer.

The clip-on series cable trays, based on the size of the cables and their weight, are available in varying quantities of standard, heavy-duty, and light duty. Alongside, these are provisioned in all types of finishes, grades, and covering including pre-galvanized, hot-dip galvanized, aluminum, stainless steel, and powder coated. In all these cases, the most promising results are the same with a number of amazing features that depict its innovation.
Legends India : A Cable Trays Manufacturer
Legends India has been a company of product innovation and delivery for a number of industries in various sectors. One such promising product is cable trays that have been expanding their use over varying applications. Legends India is a manufacturing company based in New Delhi that has expanded its foothold in over 15 countries across the world. Presently, Legends India is targeting countries like North America, UAE, India, South Africa, Canada, United Kingdom, Mexico, South America, GCC Countries, and Brazil for expanding its reach in other regions of the world.

Legends India has a prime focus that consists of ensuring quality product delivery at affordable prices keeping the customer satisfaction ratio up to par. Having delivered innovation to the market, Legends India has made a name for itself while maintaining a steady stream of supply-demand ratio. It has been working diligently to establish the fact that the company is indeed the best Cable Trays Manufacturer in the city. With its products in the market, Legends India is sure to be a remarkable manufacturer beyond comparison in the coming years with its innovations taking over the market by storm.