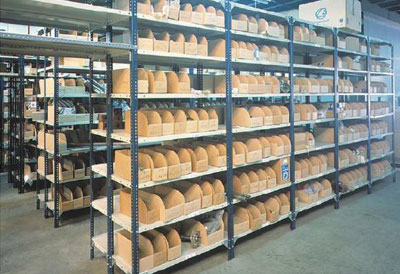 At every warehouse or production facility, there is a need to store a large number of materials, consignments, or boxes of multi-storage. With heavy duty racks, the functionalities of the warehouse are augmented and the operations are quickened. These heavy duty racks are nothing but a highly demanded solution for all shelving problems where a large amount of storage is settled inside a fixed-sized-enclosed area.

With the best heavy storage racks manufacturer, you can get the right consultation to choose the appropriate racks that will double up the storage space. These are the most suitable for a number of industries due to their uniqueness, characteristics, and premium quality. Depending upon the kind of storage, there are different types of heavy storage racks you can choose from.
Types of Heavy Duty Racks
1. Pallet Racks
The heavy duty racks that provision stacking of products in both horizontal and vertical directions. Every order for a pallet racking system is uniquely based on the requirements of the warehouse and the type of storage. There is no limit to customizations and configurations to bring quality results and monetary benefit to the customer.

2. Cantilever Racks
If you have the need to store quite long, yet thin, oversized, and quite heavy loads such as beams or pre-packed furniture, Cantilever Racks are the best choice. Converting a limited space into a multi-storage area is the greatest benefit of these heavy duty racks.

3. Slotted Angle Racks
With the finest quality of material, the most basic necessity of every product management business is owning slotted angle racks. These ensure greater productivity and a plethora of storage options with its reliability and robustness, making it an irreplaceable part of the product storage.

4. Multitier Racks
When you have a plethora of product types for storage and you need a lot of storage space, you can go for two-three racks shelved on top of the other depending on the height of the warehouse. These ensure that at every part of the warehouse, there is a provision of any type of storage while utilizing the height of warehouse.

To choose the best out of the types of storage racks, you need an expert advice. That expert would be Legends India Group, considered to be one of the best heavy storage racks Supplier manufacturer. All you need is to understand your requirement and type of storage consignment your business deals with.


Smart Storage Solution: Special Properties
When you are looking for an efficient storage system, you can go for heavy duty racks and consult with the most preferred heavy storage racks manufacturer. These racks are best because:
These can help take a load of medium to very heavy loads for a long time.
This helps minimizes accidents and injuries with its quality make, regular standard checks, and balanced storage structure.
every single rack is big enough to take a vast load and help utilize the storage space quite effectively.
These allow for proper sorting while storage for easy locating.
The lifespan and durability of the racks are very long due to the low amount of wear and tear.

Legends India : Heavy Storage Racks Manufacturer
For a smart and efficient warehousing solution, Legends India group is the manufacturer to approach. With customized designing at hand and installation aid, Legends India is the much-preferred solution. You can get in touch with the experts to help gain the right perspective on the storage requirement and select the right heavy duty rack

Legends India has gained a following with its quality delivery of products, Heavy Storage Racks being one of those popular products across all industries. They have covered a large area with their products but have a need to extend the reach to the targeted places such as Brazil, North America, South America, Mexico, South Africa, United Kingdom, India, UAE, and All GCC Countries. Legends India has made its name as a heavy storage racks manufacturer and will boost businesses with its product across all industries.